Partnering with ISVs part 2: Here's how to do it well
In my last blog post, I discussed the 5 reasons why a software reseller or consultant should partner with an ISV. Partnering with an ISV is a great opportunity for any reseller or consulting business to make more money and grow its customer base significantly.
At PandaDoc, we know this because we've gone from 0 to 7,000 customers in a considerably short period thanks in large part to our channel team. PandaDoc has hundreds of successful, active resellers that come from a variety of ecosystems like Salesforce, Microsoft, Google, HubSpot and many more.
Due to our reseller's efforts, we've learned a lot about partnerships. We know that our partners have helped PandaDoc grow by bringing our solution into numerous ecosystems. But we've also helped our resellers to build stronger, better business. These relationships are a true win-win.
So we're passing our knowledge on to you. In this post, We're giving you the secret sauce to help you find the right partner, where to find them, and how to ensure the relationship is fruitful for years to come.
How do I find the right partner?
Our first convos with some of the new partners go a little something like this:
"Mikita, I have a client who needs to generate quotes and contracts, let's partner!"
"So you have only one client?"
"Yeah one client."
"You sure you only have one client?"
"Yup, that's it."
Many businesses find a problem with one of their customers and think the only way to solve that problem is to find an ISV to partner with. They then spend a ton of time on calls with ISVs, learn their products, and do a bunch of trainings only to make one sale.
This presents a problem. A majority of ISVs don't want to partner with a company that has just one opportunity because it is not beneficial to either party. Don't get me wrong, every customer is important, but no one likes one-offs. Good onboarding of a VAR takes time and effort.
I've seen this situation happen at PandaDoc before. Here is an example:
John has one customer that wants to eSign documents. So he goes online and partners with an electronic signature vendor. Then a second customer of John's needs to find a way to generate documents out of their CRM. Great, so John partners with a 2nd ISV that does that. And then John's third customer needs a solution to build quotes and proposals. And the fourth customer needs a contract management tool.
You get the idea.
Three months later, and after spending a ton of time juggling three different tools and relationships, John realizes that what his customers truly need is a way to make their transactions digital. Quotes, proposals, contracts, and eSignatures are just pieces of the puzzle. And the company John should've spent time with was PandaDoc, which has a  solution that solves the puzzle entirely.
The bottom line is this, once you've discovered a problem within one account or customer, dig deeper. Reach out to every customer and pitch the same problem. Chances are you will find another customer facing similar challenges. When you have the entire puzzle figured out, it is time to find an ISV.
So where do I find this amazing partner?
A good place to start your search is in the marketplaces of platforms you already know and resell into. You want to make sure your new partner is committed to an ecosystem that already exists. SalesForce AppExchange or Microsoft AppSource are good examples.
Next, you need to learn about their product. I suggest getting the information from someone other than a sales rep. Analysts are good, but they aren't customers. Find real customers of the product and read honest product reviews. Websites like Capterra and G2Crowd are excellent resources.
But don't stop there. The product is only half the story; the company needs to be good too. Spend some time on Glassdoor for answers to important questions like, do they have enough funding or are they running out of money? Is their attrition high? Is the company a hot mess? Is the CEO nuts? Noone is perfect, but it is important to paint a solid picture of the organization.
I also suggest that you talk to their channel team. If it is just one guy whose title on LinkedIn profile says Sales Manager and he only works with partners on the side, chances are they don't have a real program. On the flip side, if their channel org is huge, and you are small, you need to make sure they are flexible enough to help you co-sell and co-deploy. You want to ensure your first few deals go well.
This leads to another important factor in finding the right partner – robust training. Training is important, especially if you have a sales team that exceeds 3 people. We find that the most successful partners at PandaDoc use our product internally for their proposals, contracts, and electronic signatures. If you can have your sales team using your ISV product every day, the training piece will take care of itself. Your sales team will naturally sell the product.
How do we make sure our partnership is successful?
Again, no one-offs. That is our first and most important advice. Bring a few opportunities to the table. The more accounts you bring to your new partner, the bigger the opportunities and the more time, attention, and love you will receive.
Second, bring your partner into the deals. Have them help you co-sell and co-deploy the first few with you. Remember you are doing this for the first time. No matter how great of a salesperson you are, there is always much to learn. It might also be helpful to bring a member of their Customer Success Team into your first few accounts so that you can ensure they adopt the solution smoothly.
Third, after you've had a few successful deals close, meet your ISV in person. Share some cocktails, feed them, become friendly. Why? Because down the road, you will need favors. There will come a time when you'll need a significant discount, or you will need support with a complex implementation to push a deal across the finish line.
Finally, once you've established a relationship, it's strong, and you trust one another, it is time to get leads.
We get over 1,000 inbound trials per day and we don't mind sharing these leads with our partners as long as we know our customers are being taken care of. When we are aware that these leads are going to be successful with the help of our partners, the relationship gets even stronger.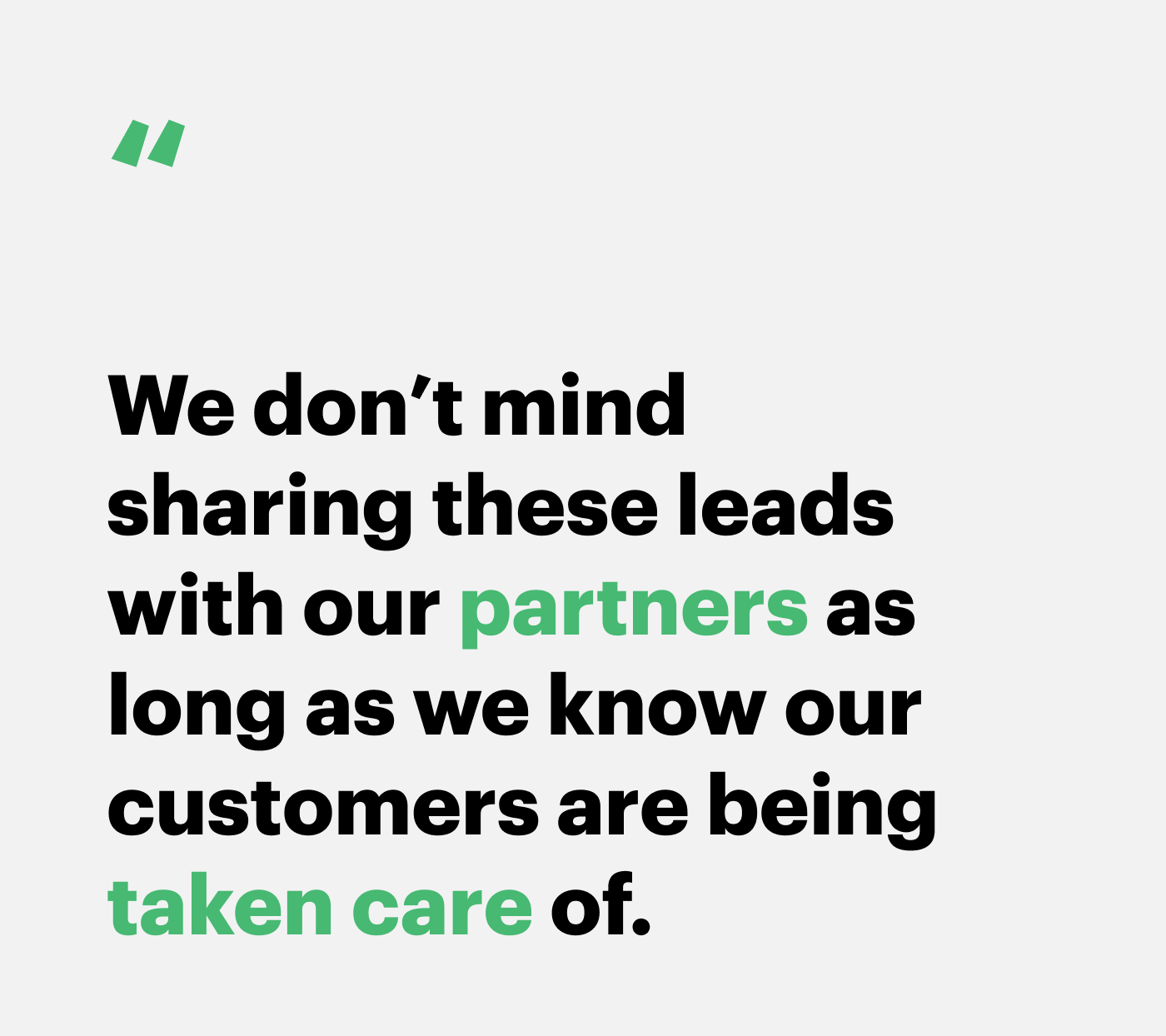 At the end of the day, successful partnerships are about successful customers. When you partner with the right ISV and make that relationship fruitful, each business will only continue to grow.
Want to learn more about how you can partner with PandaDoc? Click here to apply to the Partner Program.