Maximize selling time with these 7 sales hacks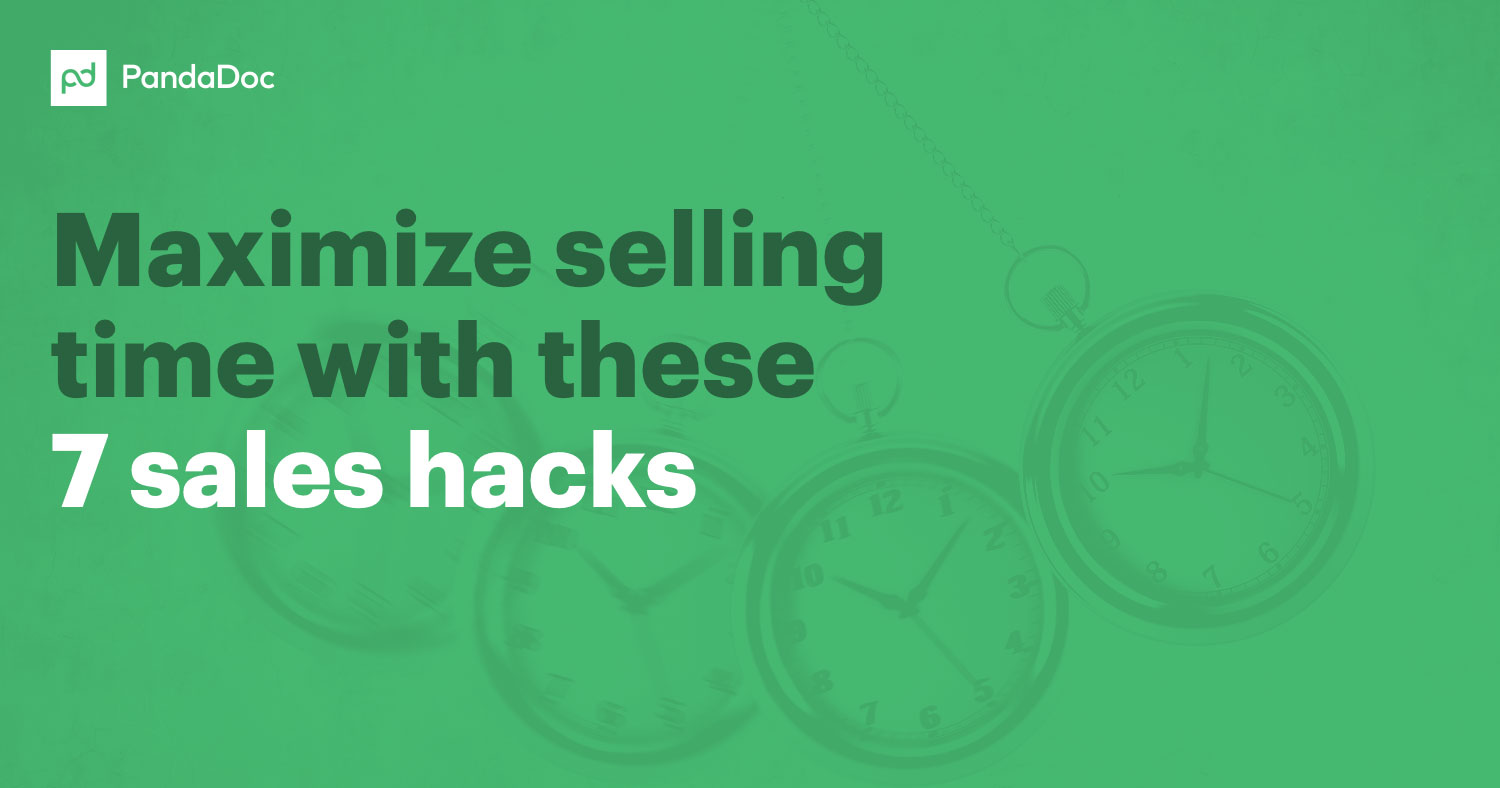 For managers and sales reps alike, it's incredibly frustrating that only 35% of a sales rep's time is spent actually selling. Collectively, we need to do a lot better at helping reps not only manage their time, but maximize it.
Here are some shareable 'hacks' that sales pros can use to maximize their hands-on selling time:
Simplify and be smart about CRM data
On the management side, look for ways to simplify what needs to be tracked. It can be tempting to try and track every granular piece of data about your reps' deals with the hope of extrapolating an insight that'll revolutionize your sales organization. The reality is that trying to do so just bogs down reps with exponentially more data entry.
Automate what you can

Automation is getting more sophisticated but it can still feel like a gamble when it comes to data fidelity. Look for things that can be automated that aren't heavily contingent upon artificial intelligence. For example, if you require reps to track communications to clients, make sure you're leveraging whatever integrations are possible that can automatically pull in emails that match a contact's email address.
Use automation triggers to create tasks or that will move/copy information from one area to another. Automating micro-tasks means time savings that adds up over time without sacrificing the quality of your data.
Avoid the meeting time back-and-forth

There are tons of great tools out there now that will allow your reps to schedule meetings by sharing a link to their calendar instead of taking up time to check availability and suggest times. The PandaDoc sales team members love newcomer calendar automation tool, Chili Piper.
Hire a virtual sales admin

Did you know that up to 76% of a sales rep's time is spent on administrative tasks? Why not outsource some of those tasks to a sales admin? By taking some time to hire and train a virtual assistant to do standard tasks like data entry, research, managing outbound campaigns, etc. you can reassign some of the most time-intensive tasks that absorb your team's selling time. The best part is that hiring a virtual assistant is significantly more cost effective than most people realize and won't add headcount to your team.
Use data to your team's advantage
Leveraging a platform like PandaDoc for document automation provides really useful data like document views, forwards and signing that signal when is the best time for a rep to follow up. Having access to this type of data eliminates the ambiguity of whether or not a proposal or contract has been received or viewed and arms the rep with the insight they need to communicate meaningfully instead of blindly, saving everyone time in the process.
Get research delivered to your reps
Research is critical to sales reps' success. One tool that I've found to be particularly helpful for cutting down on research time is Charlie. Charlie plugs into your reps' calendars and scrapes relevant research about the prospect from the web, delivering that research to the rep's inbox an hour before a meeting. It includes press mentions for the individual, their company news and announcements, links to the prospect's social media and recent posts and even some of the prospect's interests like sports teams or hobbies. It's not comprehensive by any means, but it's a smart way to get contextual research without any time investment.
Make content easier to find
Did you know that 60-70% of content created by B2B marketing teams isn't actually used by sales? We've got some fixes you can borrow from this post but one element to be aware of is that reps often can't find content. Shave off time spent searching for content by leveraging a smart folder structure that encourages discoverability. If your company uses Slack, be sure to also share content assets to a dedicated Slack channel.
By 'frontloading' some time and energy into your sales ops and sales enablement functions, your sales reps will be able to dramatically reduce the amount time they have to spend on sales 'busy' work so they have more time to spend selling.